Glass splashbacks from VSOM: why choose us?
The glass splashback is a panel used in kitchens to protect walls from splashes. They are commonly used behind the stove in kitchens to protect the wall from splashes and heat damage. Let's discuss its advantages and how to get a quote and choose one.
1. Why did we choose glass splashback?
Easy maintenance
Many different materials can use for kitchen splashback, and most require much maintenance. For example, stainless steel is difficult to keep free of stains and scratches; Marble and granite need polishing to keep them shiny and clean; the tiles' grout lines attract all kinds of grime and dirt. However, compared to other kitchen materials, glass is smooth without cracks or unevenness, which is very easy to clean. Glass splashback requires nearly no maintenance. As a result, we don't need to spend hours daily to keep the kitchen clean!
Multiple styles for options
With the development of glass manufacturing technology, many different styles, and colors of glass splashback come out to meet our various kitchen design ideas and present our attitude toward living life. For example, a large black glass splashback matches the white cabinets and gives the minimalist modern kitchen style.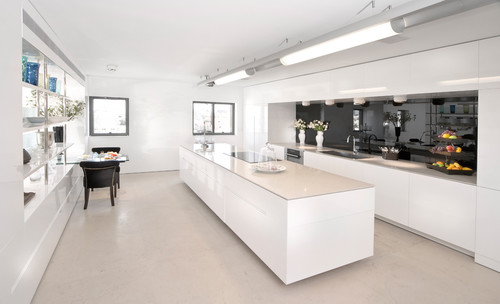 Strong and heat resistant
The splashback toughened glass is specially designed for the kitchen splashback. It's 3-5 times stronger than regular glass and can withstand high instantaneous temperature differences.
Durable
The toughened glass splashbacks are durable, can use for over 15 years, and is unaffected by everyday wear and tear. It is not easily damaged or out of shape and can maintain its glossy color and finish for many years.
2. Why choose VSOM?
VSOM GLASS is a Chinese glass manufacturer specializing in solutions for all glass applications. We sell to distributors, retailers, and individuals.
Multiple styles for endless customization
VSOM has four glass factories with a full range of equipment that processes various glass designs.
Large size and trick shape customization
Our toughened glass furnace allows us to manufacture large-size glass. With experienced glass engineers, we can process trick shape glass customization.
Professional glass splashback manufacturing
High-precision glass cutting machines, edging machines, and high-technology tempering furnaces ensure the precision size of glass splashback with multiple styles of edges.
Fast delivery worldwide
Our large capacity factory and advanced order schedule system allow fast order delivery. In addition, with years of cooperation with forwarder agencies, we can help our customer to manage shipping issues worldwide.
Smooth communication with a fast response
With an independent export department, we have English speaker sales. In addition, each client has been assigned a dedicated account manager for fast response service.
3. How many glass styles do you have for splashback?
Single-color or gradient color glass
More than 120 single-color or gradient-color for your options. No matter what kitchen style you prefer, you are sure to find a color that matches.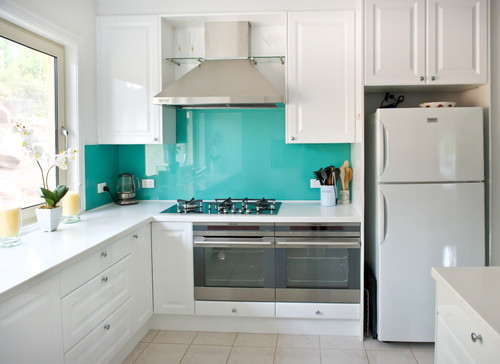 Mirrored glass
As a popular splashback trend in the past two years, we offer multiple colored mirrors and various kinds of antique mirrors for your option.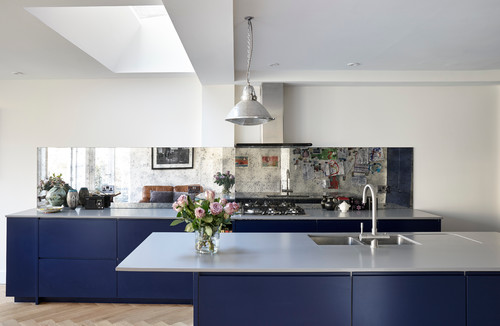 Elegant marble or porcelain tiles style
This category contains various patterns like marble, granite, porcelain tiles, jade, etc.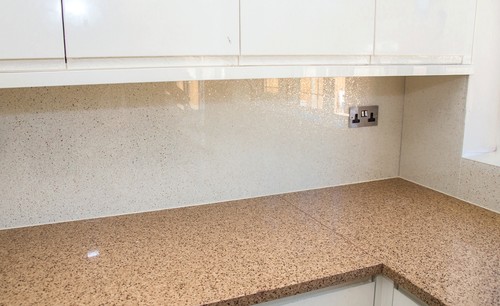 Digital printing glass
With world-top digital printing machines, we can offer endless customization styles for you.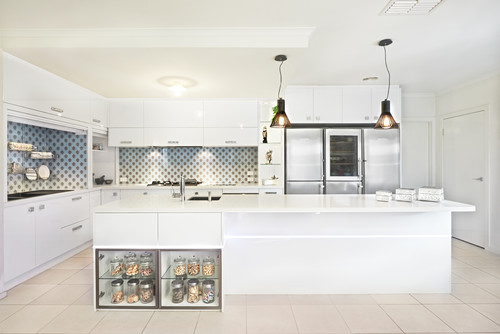 Please get in touch with us directly if you need other customization styles.
4. Can I get a sample of glass splashback?
Yes, for sure. VSOM delivers samples worldwide by express service and will charge fees for your customized selection. We can refund the sample fees in your official order.
5. What do we need to make a quick quote for you?
Quantity
Please let us know the quantity you need. Are you a distributor, retailer, or for personal use?
Dimension and shape
Please let us know the dimension and shape of each piece. Better with drawings for faster communication if the splashback is not rectangular
Holes or cutout numbers
Please let us know how many drilling holes or cutouts you need; better with drawings or sizes.
Glass splashback style details
Please share more details about your thoughts. It will help us to offer a better recommendation.
Now fill out the form below to get in touch with our sales team!